Every day, many of us spend a significant amount of time at our computers, tapping the keys incessantly (when we are not clicking and scrolling). These days, we have a lot of typing work to do: homework, school assignments, documents that a supervisor wants us to finish ASAP, and so on. We rely on our computers and, of course, the keyboard that comes with them. 
Although keyboards are usually used for typing, they are capable of much more. What your keyboard can do for you with a few more functions can make you fall in love with it. 
When it's time to replace your old keyboard, you'll naturally go for the same type of keyboard you're used to. However, there are many different sorts of factors to consider. 
We've compiled a list of factors to consider when selecting the ideal computer keyboard to meet all of your computing requirements. 
Type of work 
There are many different types of computer keyboards on the market today, each with its own set of functionality to meet certain needs. The type of job you'll be performing with your keyboard is the first thing you should think about. 
There are keyboards made specifically for gaming. If you're a dedicated player, you should have one of them. Special gaming keys are included on the best gaming keyboards to help you play computer games. If you use your computer for typing professions that need you to 
type for lengthy periods of time, invest in an ergonomic keyboard that provides you with a terrific, pleasant typing experience. 
If you need to deal with numbers, you should acquire a keyboard that includes a numeric keypad. Your work will influence, to a considerable part, what sort of keyboard you should get so that you don't waste money on a keyboard that you don't require. 
Logitech K580 Slim Multi-Device Wireless Keyboard is a great option for on-the-go work matters. And Razer BlackWidow V3 Mechanical Gaming Keyboard might be a better fit for dedicated gamers. 
Use of keystrokes (Switches) 
When purchasing a computer keyboard, make sure the keystrokes are checked first. You don't want to wind up with a typewriter-like keyboard on your hands. Examine and try out the keys. There are keyboards with a delicate, gentle, feather-like touch, and others that require a bit more force to text on. 
'Switch' is the mechanism that allows the keys to respond to touch. The most common types of switches utilized by most manufacturers are rubber dome switches, scissor switches, and mechanical switches. The switches determine the amount of sensitivity, noise level, and comfort. Learn about them and choose the best one for you. 
Razer is known to think through every little detail of their keyboards, and the Razer Huntsman V2 Tenkeyless Optical Gaming Keyboard, Linear - is no different. While the model is available in two options: linear and clicky, we suggest linear for those looking to get a more smooth and seamless workflow experience. 
(Razer Huntsman V2 Tenkeyless)
Reliability 
Nowadays, most keyboards link to computers through USB connections. PS/2 ports are fast becoming outdated. Unlike the plug-and-play USB cable keyboard, wireless keyboards connect to the PC through Bluetooth and are a little more difficult to set up. To utilize the function keys on most keyboards, you'll need to install some software on your computer. Before you buy a keyboard, be sure it's compatible with your computer. 
A great example of reliability is the Asus XA05 Rog Strix Scope RX/RD/AR Keyboard available on Microless. This device doesn't just connect in a matter of seconds but has a Full-functioning USB 2.0 passthrough port for device charging and external storage.
Design 
The keyboard's design and architecture have a significant impact on your computer experience. Standard, gaming, and ergonomic keyboards can be classified based on their design. 
The most prevalent keyboards are standard keyboards. Conventional keyboards now have multimedia keys in addition to the standard 104 keys. Gaming keyboards are designed specifically for games and include multimedia keys as well as other gaming-specific keys. Ergonomic keyboards are meant to help you place your hands naturally and prevent strain by providing a comfortable wrist rest. They are certainly costly, but they are well worth the investment. If you have carpal tunnel syndrome, you should use an ergonomic keyboard. 
Those who use their computer in the dark may prefer the illuminated keyboard. Those who value portability may wish to invest in a flexible, folding keyboard that takes up little room in their suitcases. Keyboards that can withstand liquid are available on the market for folks who are prone to mishaps. 
Keyboards with a split-style design or a suitable wrist rest pad may be the best option for individuals concerned about comfort. The DVORAK layout keyboard is better for programmers. 
Many companies have put a lot of thought into their keyboard designs. Choose the one that is tailored to your needs. 
The Razer Pro Type Ultra - US Wireless Mechanical Keyboard, is an ergonomically designed keyboard that is high on comfort and features keycaps lined with a fingerprint-resistant, soft-touch coating—for a luxurious, cushioned feel that makes typing a joy. 
Wireless vs. wired 
Both wired and wireless systems have advantages and disadvantages. The wireless option eliminates the cord cluttering your desk, but it may interfere with other wireless devices. 
Wired keyboards are ideal for gaming since wireless keyboards lag and obstruct gameplay. Wireless keyboards are powered by batteries, which must be charged or changed on a regular basis. This raises the price. Many people who want the best of both worlds prefer a keyboard that supports both wired and wireless settings. 
Take a look at this Logitech MX Keys Advanced Wireless Illuminated Keyboard available on Microless, if you want a professional and minimalistic gadget, wire-free.
(Logitech MX Wireless Keyboard)
Addition of function keys 
Many keyboards now offer extra function buttons for opening programs, regulating volume, controlling the music players, and other activities to help you get things done faster. Power management buttons, customized character layouts, and customizable shortcut keys are also included, which may be quite useful at times. To replace the mouse, some keyboards have a touchpad or a tiny joystick. 
A great example is this, Corsair K100 RGB Optical-Mechanical Gaming Keyboard on our website, which includes six dedicated macro keys, fully programmable for complex macros and key remaps in iCUE software, or program special streaming commands through Elgato Stream Deck software.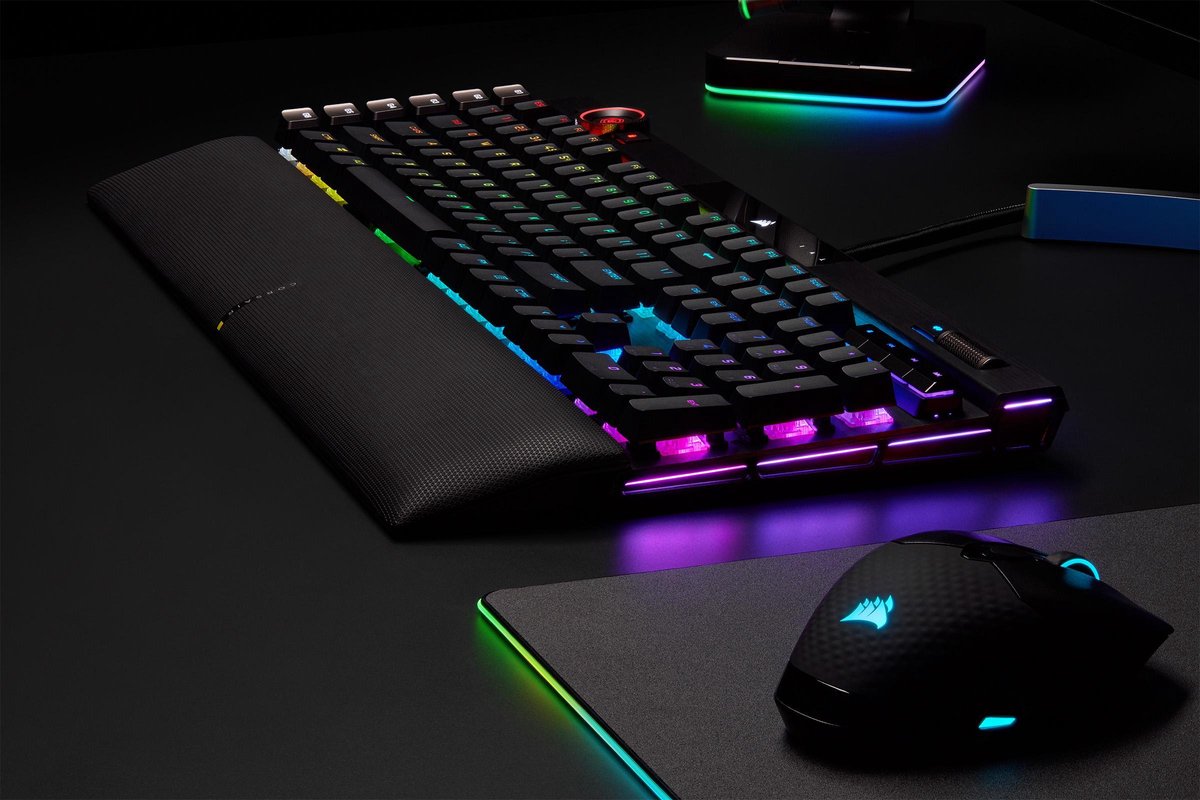 Price 
Keyboards are priced differently depending on the characteristics they have. Obviously, the more features it offers, the higher the price. Look for a keyboard that satisfies both your needs and your budget. Spend wisely and don't buy goods you don't require. 
Check out this budget-friendly Meetion Full Key Anti-Ghosting Metal Mechanical Keyboard on Microless.com (Only 275 AED) for a sleek game-style design with a metal surface cover and a comfortable silicone handrail.