Samsung Odyssey Neo G9 Review
All gaming monitor manufacturers nowadays have a flagship, a monitor that stands out the most. Whether it has a higher refresh rate, a new futuristic look, or perhaps an outstanding image quality. Trying to combine all the major components gamers are looking for together, without sacrificing a high refresh rate, for instance, is not an easy task. Samsung accepted this challenge and provided us with an updated version of their G9 lineup, the Odyssey Neo G9.
So, what is so unique about this monitor, you may ask? We combined all its features along with some guidance if you are considering buying one in this article.
Ultimately this monitor's unique feature that makes it stand out when compared to other high-end gaming monitors - a 49" (around 125 cm diagonally) curved Quantum Mini LED display
It is huge! You might say that it seems too big, but rest assured, it is not. The studies have shown that having a screen this size reduces the tiredness of your eyes since instead of starring at a single point for hours, you will now use all this new screen real estate, glazing from one corner of the screen to the next one. Reflections are a challenge for ultra-wide displays, however, in this case - it is not a problem. It has fantastic peak brightness and pretty good reflection handling. This would not be a difficulty even in very bright environments.
Let's dive into the main points and have a more in-depth look at Samsung's promoted features of this monitor.
DHQD
Double Quad High Definition which you can find in Odyssey Neo G9 means that the display is as wide as two QHD displays monitors put side by side. Just like having 2 monitors, made to fit into one large display. More space - more options. This can instantly increase your performance, as you can now view 2 fully extended browser windows side by side, without the need to make each one 50% wide to fit. Imagine a movie running in a full window on one side of the monitor, while you do your own thing in the other half, pretty cool right?
1000R Monitor
This is Samsung's widest gaming monitor, which matches the curve of the human eye for maximum immersion. If you position yourself in the middle, about 60 cm away from the screen - you will not see anything but a large screen with top-of-the-class picture quality.
240Hz Refresh Rate and 1ms Response time
A higher refresh rate means that the display will render more frames per second, making the picture look more smooth and natural. A high refresh rate eliminates a trace of high-speed moving objects, making the gameplay sharper and more enjoyable. Although there are doubts whether a refresh rate higher than 144Hz even makes a difference for the human eye reaction time-wise, it is still noticeably smoother even when simply moving your corsair around the screen. If you have never experienced dealing with a monitor with a refresh rate higher than 60Hz (which is a standard) - this monitor is in its own league. Combined with a 1ms display response time and an incredibly low 2ms input lag make it an absolute beast for high fps games. Even though most of us don't notice an input lag or our displays response time - studies have shown that people who have played CS:GO with better gear (higher refresh rates, less response time) did better than a test group with standard 60Hz displays. With that being said, even if you are not into the high fps games, you will most definitely feel the difference.
Design
Samsung's engineers thought this one through, not only working on the looks of the screen but also the usability and the overall aesthetic of it. Beginning with Odyssey's Infinity Core lighting which will change color according to what is going on in your game. It looks amazing if the monitor is positioned very close to the wall. It also has an actual health benefit! For those who like to stay up late playing their favorite games, this light, dispersed on a wall behind your screen will make your eyes less tired over time, as it will create this 'glow' around your monitor. So instead of looking at a very condensed bright picture in the dark, the 'glow' will smoothen it, making it easier for your eyes to concentrate on a bright image. Secondly, the cable management in this product is phenomenal. All cables can be hidden away in the support of the monitor. This allows making a seamless no-cable setup look. The third amazing function of the monitor is the ability to position it however you want. It can swivel, tilt and you can adjust the height of it on a stand. Of course, this is expected in such a premium product, however, considering the size of this thing, Samsung could've cut corners but they didn't which is always nice to see.
Mini-LED
Now let's talk about what has changed from the previous version of G9. Mini-LED backlighting. Mini LEDs allow controlling the regions of different brightness and contrast levels to the maximum. The definition of the picture with this technology is extraordinary. Local dimming zones have also increased to 2,048 which eliminates most of the glow effect (a small white object on a black background could have a glow around it which could be annoying at times). This was a pretty big problem in the previous version of G9 but after some reworking, it is finally over and done with. Combined Mini-LED technology with the highest 12-bit black levels on a VA panel will make you look at the same games differently. This gives a picture some sharpness and makes it pop.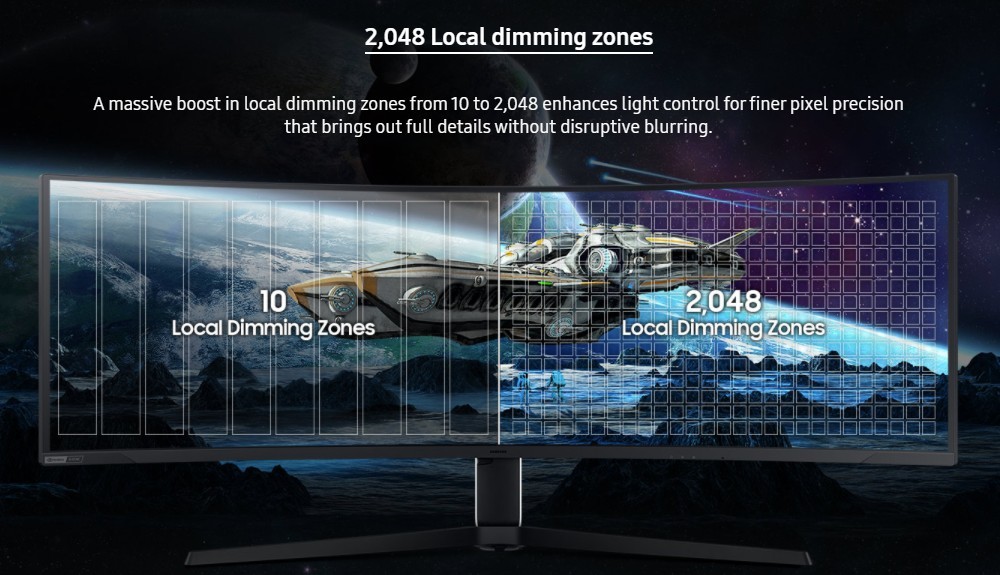 HDR2000
HDR (high dynamic range) is a color technology that enables a monitor to display a broader spectrum of colors and contrasts. This means that an HDR monitor more realistically displays nuances and color tones, and shows more detail when it comes to light and dark. It became a very popular implementation in gaming monitors very quickly. Odyssey Neo G9 stepped up their HDR game, compared to their last model - Odyssey G9, allowing you to observe the smallest details in every scene, giving a picture more depth. This monitor features a peak brightness of 2,000 nits! This is extremely bright for a gaming monitor. The best peak brightness on the market in addition to Mini-LED technology makes it unbeatable in 2021.
FreeSync/G-SYNC compatibility
FreeSync/G-SYNC is an adaptive synchronization technology that gets rid of stuttering and tearing of an image during gameplay. Odyssey Neo G9 supports both technologies.
Additional Features
Crosshair: You can add a virtual crosshair to the middle of your screen for FPS games

Dynamic Contrast: Odyssey's chip can identify what is going on your screen and automatically adjust the contrast

Auto Control +: The monitor detects when a new source is powered and switches to that display channel, without the need to reach for the source tab

Black Stabilizer: When in dark surroundings, 

Odyssey Neo G9

 will increase the gamma so that you can see your opponents better in shadows

HDMI 2.1 makes sure you are up to date with new generation graphics cards and consoles for a few years ahead
Conclusion
The Samsung Odyssey Neo G9 is an overall great monitor with a pretty new to the market feature of Mini-LED backlighting. Following its older brother - Odyssey G9, Samsung worked hard to fix the issues of the previous generation and they did a good job. The main problems of HDR and dimming zones have nearly completely diminished. It has great local dimming capabilities and it for sure gets bright! As of the end of 2021, this is by far the most superior monitor out there. Whether you are looking for a high refresh rate or simply a beautiful display, Odyssey Neo G9 has got it all. In addition to this, Samsung keeps releasing firmware updates, making the HDR even better. Speaking of the price, it is not cheap, but it found its customers. The recent feedback from new customers is looking very promising. Even if it is a bit too pricey to cop right now, it should go on the tracking list of 2022. You can always check the prices on our daily updated website. Perhaps, it is on a discount right now?